Embracing the Future of Meetings & Event Space Design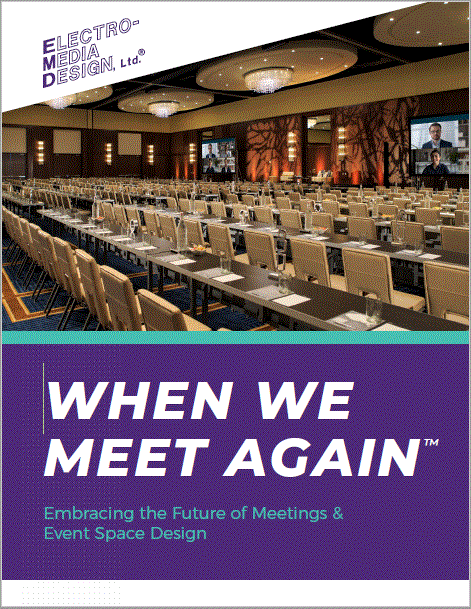 It's clear that the Coronavirus pandemic has profoundly disrupted not only the business of meetings, but also that of the hotel AV industry. Likewise, these changes are reverberating beyond hotels to include conference centers, corporate settings, and even institutional and educational facilities.
In this guide, we discuss how the sudden shift in the meetings and events industry has introduced a new meeting model for the future.
What We'll Cover:
---
Chapter 1: A Major Shift is Happening to the Meetings Business
Chapter 2: Into the Fourth Dimension: Digital and Hybrid Events
Chapter 3: See, Hear, Wow: Solutions for Engaging Remote Attendees
Chapter 4: Leveraging the Power of ArchiTechnology®
Chapter 5: The Keys to Effective Operations
Podcast Episodes
Podcast - Episode 1
In this episode of When We Meet Again, John Rossman interviews Jeff Loether, Founder and President of Electro-Media Design, an independent technology consulting firm that specializes in meeting, event, and entertainment audio visual presentation technologies. They discuss the virtual events that kept us together during the pandemic, and how elements of those meetings will carry on in the in-person events as we meet in the future.