Meetings in the Fourth Dimension: Virtual, and Hybrid Events
Without question, the Coronavirus pandemic has led to wrenching changes in the meetings business. But seen in a broader context, it's merely going to accelerate and transform a process that has been taking place for millennia – virtual and hybrid communications and events.
The search for better ways to communicate and collaborate over distances in real time (or synchronously) is not new. In fact, it dates back to around 200 BC, when Chinese inventors developed a system for communicating via smoke signals while building the Great Wall. The next significant steps on this continuum occurred many centuries later, with the invention of the telegraph and telephone in the 1800s
How and when were these technologies first used to connect larger groups in real time and for more formal communications on a regular basis? It happened in the 1930s, when educators began using radio broadcasts to teach remotely located students. But it was not until the 1980s that two-way collaborative audio and visual "distance learning" truly took hold. It was at this time that hotels and conference centers first began using satellite video teleconferencing as a paid service to interconnect remote audiences for meetings and events, primarily via one-way video and audio bounced off of earth-orbit satellites, sometimes with "phone-in" connections for questions from remote audiences watching from locations known as "pods."
In the 1990s, we moved first to high-speed digital telephone lines, and then to Internet Protocol (IP) and wide/local area network (WLAN)-based conferencing. Later still, it was FaceTime and similar apps on personal smart devices; around the same time, video conferencing on larger video displays became more practical
In the early 2000s live streaming began, originally transmitted over devices that converted live audio and video to digital signals. Much like satellite video teleconferencing, live streaming was first used for broadcasting to remote attendees or viewers; later, it was able to add two-way collaborative experiences. When the images of the participants were shown at close-to-actualsize dimensions, this was referred to as "telepresence," and various manufacturers developed mirrored rooms with cameras and displays to create the immersive effect of remote participants being in the same room. However, each manufacturer's solution was unique and proprietary and there was no way to connect the "vendor-locked" systems from different providers, leading to the failure of widespread adoption in the hotel and conference center spaces. Telepresence set-ups are still used as legacy systems in corporate and government facilities, however, where interoperability with third parties or alternative platforms is not a requirement.
Hybrid Event Topologies
The arrangement and interconnections of two or more physical meeting spaces can occur in several different structures, or topologies. It is helpful to consider how each event needs to be organized to understand what types and scale of physical and digital technologies will be required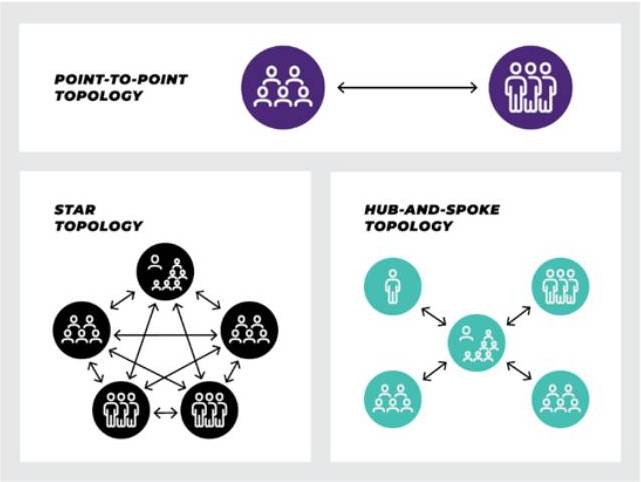 Figure 1. The three types of event typologies
The Point-to-point Topology
This is the simplest arrangement of communication links and nodes. There are two "points" that are interconnected either by telephone lines, video teleconference circuits, or a unified communications and collaboration (UCC) platform via the internet. Each end of this link can have one or more people, who are fully enabled to see, hear, talk, and share content with each other.
The Star Topology
This arrangement is where more than two nodes (also referred to as "hubs" or points) are interconnected. Each of the nodes can have one or more people participating, all of whom can see, hear, talk, and share content with any or all of the other participants. Sometimes one or more of the nodes will lead the presentation.
The Hub-and-spoke Topology
This topology represents an arrangement where one of the hubs is the primary session or "main event," and all of the other sites that are interconnected are remote audiences. This main hub may be set up like a television studio, complete with professional backdrops, furnishings, lighting, and even a studio audience. Often, the remote audiences are visible on large displays in the main hub studio, but typically those remote audiences cannot see each other. All eyes are on the main stage. This is also sometimes called: "point-to-multipoint."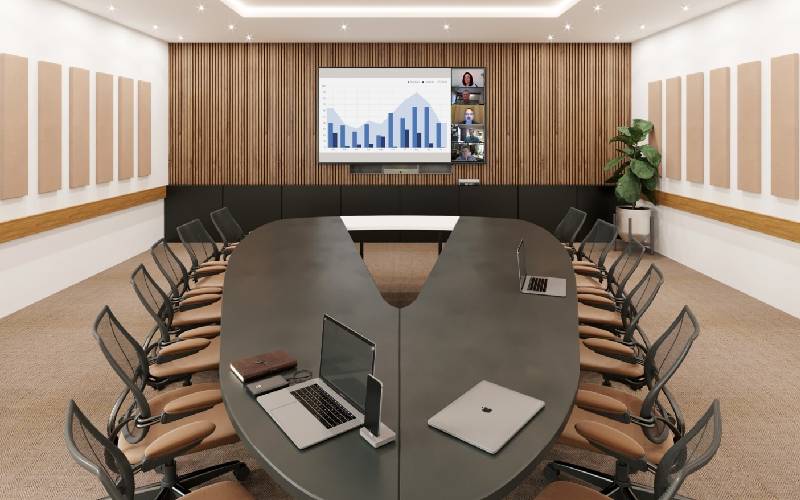 Unified Communications & Collaboration
Now, the latest iteration has incorporated each of the earlier topologies: UCC, a term for various services that facilitate multi-participant conferencing that everyone can use, and that comes with many different flavors, platforms, and choices
In the last few years, there had been a growing interest in the technology and capabilities that would eventually become known as UCC. But the widespread use of UCC during the pandemic has accelerated its adoption even more. In fact, it has allowed us to leapfrog ten years of incremental adoption in the space of a less than a year. The bottom line is that meeting in a virtual space as opposed to a physical one via UCC technology is not only viable, but also offers many advantages. Another implication of this rapid adoption is that UCC technology is quickly becoming a new basic requirement for meetings of the future — one that probably will soon be as widely accepted as email. This gives those venues that devise successful ways to support such meetings a distinct market advantage.
For companies and professionals in the meeting business, this is good news. Industry veterans may recall that when the meetings industry first encountered satellite video teleconferencing, many pundits saw it as the end of the in-person meetings business as we knew it. The subsequent experience and statistics have proved this prediction to be very wrong. In fact, many events that include remote attendees have experienced benefits, as remote attendees who wish they had attended this year's meeting in person, often do so in the following year. Quite simply, humans need to be around each other.
Where & When to Collaborate?
Another way to appreciate the development of meeting technology is to consider two of the most central aspects of collaboration: when and where it occurs. As shown in Figure 2, these two factors can intersect in several ways, and today there are examples of three distinct scenarios, often referred to as "digital events":
Here & Now (Synchronous): The most intuitive type of collaboration, this is represented in the central circle in Figure 1. This represents the most traditional way of meeting, also known as analog, face-to-face, or in-person meetings.
There & Now (Synchronous & Hybrid): This modality can describe a scenario such as the countless purely virtual meetings currently taking place on Zoom, WebEx, Teams, and other platforms. In addition, it describes hybrid events that include both in-person and remote attendees through the use of such solutions as Twitter feed displays that allow remote participants to share comments and ask questions of speakers.
There & Then (Asynchronous): This choice describes such interactions as video on demand and scheduled webinars. To accommodate demand for this collaboration model, in-person and hybrid meetings must have the technology needed to capture event presentations and interactions and make them available for future (THEN) reference and experience.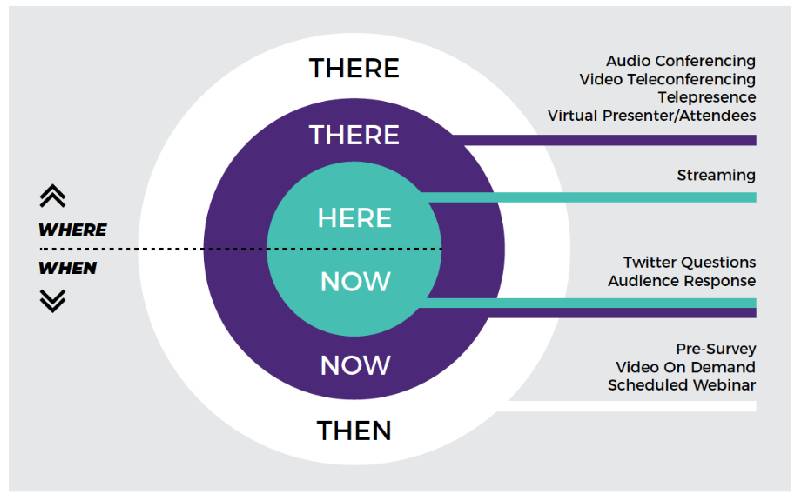 Figure 2. The expanding array of meeting/collaboration alternatives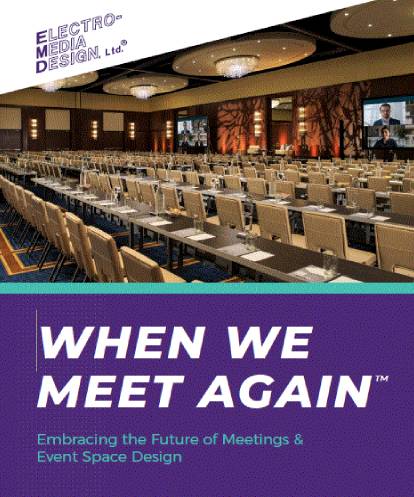 Embracing the future of Meetings and Event Space Design
In this guide, we discuss how the sudden shift in the meetings and events industry has introduced a new meeting model for the future.
Additional Resources
How Electro-Media Design Can Help
As leaders in both the hospitality and audiovisual industries, EMD offers a full range of event and entertainment systems design and acoustical consultation with expertise in audio, video, control, and related presentation, entertainment, and communications technologies. ElectroMedia Design does not sell, install or receive compensation from product manufacturers. We are your independent advocate
For more information, please visit www.electro-media.com.
We are offering a free one-hour consultation to discuss any questions or projects you would like to discuss. Book your free one-hour consultation through calendly
Thank you very much for your interest, you also can reach us at (301) 355-5050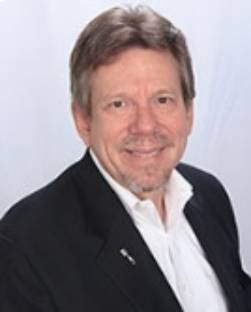 Author: Jeff Loether, ISHC, Founder and President. Jeff established ELECTRO- MEDIA DESIGN, Ltd. in 1990. He has overseen the production of hundreds of designs created by EMD's Audiovisual (AV) engineers. Jeff is active in the development of new products and design approaches that incorporate different technologies to enhance functionality, reduce system complexity and cost, and improve reliability. Jeff's experience and knowledge in the hospitality industry is unparalleled and he has pioneered many of the standards of AV design and implementation. Jeff is an active speaker and instructor for a number of professional organizations, including the ICIA, IACC and NSCA. He is a published author, with articles appearing in a variety of industry related magazines, including Sound & Video Contractor. He is a founding member of the International Communications Industry Association's (ICIA) Independent Consultants in Audiovisual Technology Council (ICAT)
---
‹ Back